Pouso Alegre lodge
Pouso Alegre lodge is a very rustic installation located on the Transpantaneira kilometer 37. It is inside a huge farm, with almost 8.000 hectares. The lodge is located 7 kilometers away from the Transpantaneira, making it a real off the beaten path. Overall, the rooms are simple, and very rustic, preserving the history of the farm. Nevertheless, the lodge has 24 rooms, with air conditioning, fan, and bathroom with hot shower.  Moreover, one of the rooms is suitable for hadicaps.
Likewise, the restaurant follows the same patterns of rusticity with wooden furniture and fans. Basically, the kitchen serves the real typical pantaneiro food with cattle meat, chicken and fish. Overall, the buffets are rich in vegetables and salads. Moreover, it always has typical brazilian desserts. In general, the whole installation is very clean and it has the basic infrastructure for a pleasant stay.
In addition, Pouso Alegre lodge shows beautiful and wide  landscapes. On the whole, the main path inside the farm is 7 kilometers long. Seeing that, most animals are shy, this road is the perfect place to spot wildlife. As not many vehicles pass by, the mammals and birds feel very confortable to inhabit this areas.
In sum, It is the perfect place to make jeep safaris. Consequently, on a night safari in these paths through the fields of the farm, visitors can see Tapirs, Giant Anteaters and Ocelots. Pouso Alegre lodge is not a sophisticated place but it it unquestionably a lodge with a vast wildlife in number and in variety.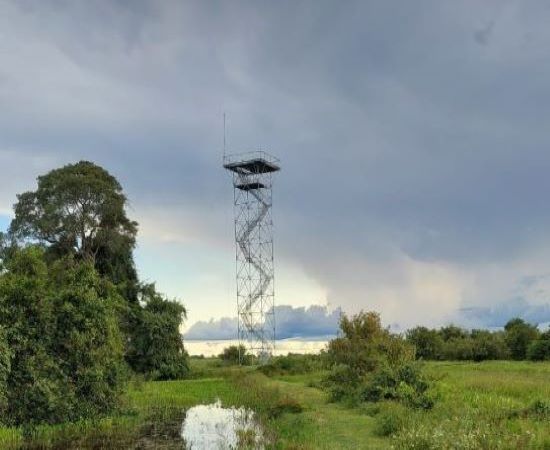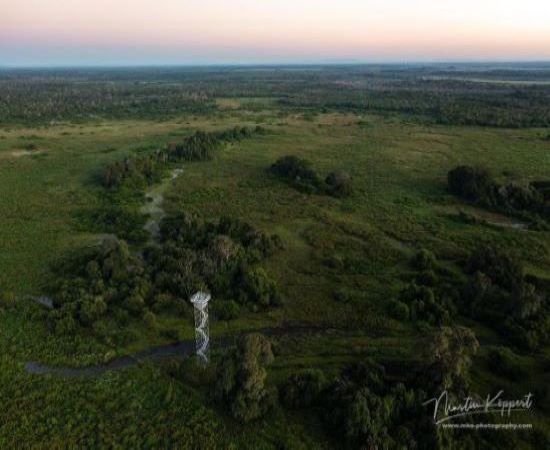 Pouso Alegre lodge activities.
Pouso Alegre lodge is a place to chose when you book your Pantanal tour. The lodge doesn´t offer activities like horse back ride or boat drives. But, the farm offers losts of trails where tourists can go birdwatching. Moreover, it offers a huge field to go on jeep safaris. Furthermore, Pouso Alegre lodge has a 25 meters high tower with 132 steps, allowing the visitors have a beautiful view of the area and enjoy the most beautiful sunsets of the Pantanal.