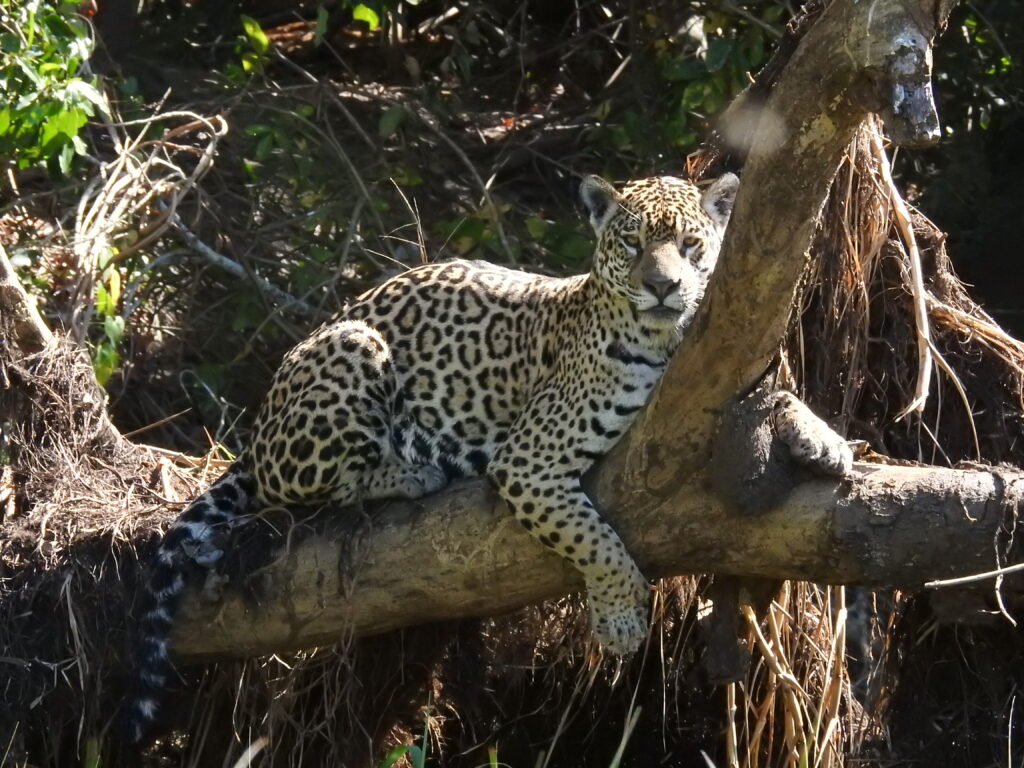 Pantanal jaguar is the most exciting animal in South America.
Above all, this post is for nature and wildlife lovers. I can certainly say that the jaguar is the most exciting animal in South America. The Pantanal jaguar tour is the most interesting activity that a visitor can do in Mato-Grosso is the jaguar tour in the Pantanal Norte. With that in mind, I must say that the Porto Jofre region is full of these cats. Regardless, these cats are living in the Pantanal National Park .
First, I suggest this. Tourists look for a local travel agency to organize this tour. However, the Pantanal jaguar tour is an activity that requires trained professionals to develop the best experience. Second, you need to get to Cuiabá. Afterwards, the visitor will have to go to Poconé. It is the last city and, consequently, is where the Transpantaneira begins. Third, it is important to use a tall car. For example, Vans or pick ups. In fact, access to Porto Jofre is not paved. In particular, there are 150 kilometers of dirt road. Not only with a lot of ribs, but also with a lot of slippery mud and even puddles. Once tourists arrive in Porto Jofre, there will be some possibilities for accommodation. Likewise, boat trips. By the way, jaguar photography is an awesome activity on a Pantanal safari.
Boat trips in Porto Jofre.
Of course, the boat trips to search for the Pantanal jaguar start early in the morning. In fact, jaguars start early hunting their prey. We usually have breakfast at 6:00 am. Basically, the tour starts at 7:00 am and goes until 11:00 am. However, we returned for lunch at noon. Later, at 2:00 pm, the second part of the Pantanal jaguar tour in the Pantanal begins. Finally, at 06:00 pm, we return to the lodge. However, there´s a possibility to make it from 07:00 am to 05:00 pm with a picnic on the river. Dinner is at 7:00 pm. Afterwards, the tourists will rest.
Pantanal jaguar behavior.
In conclusion, it is very interesting to observe the behavior of this wonderful cat while hunting. In fact, they are at the top of the food chain in their habitat. Overall, they mainly prey on capybaras and caimans. We usually find jaguars lying down resting on the banks of rivers. In fact, they are quite used to tourist boats. Anyway, it's very easy to photograph them. Appreciate !!!